EDDIE FROM OHIO AUGUST 2018 EMAILER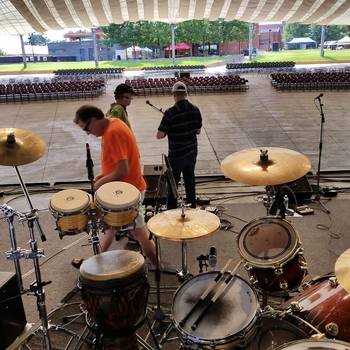 HAPPY DOG DAYS OF SUMMER, EDHEADS




We hope everyone is staying cool and safe through all our crazy planet's extreme weather systems as of late. There are no EFO shows to report for this month, but Robbie has a good chunk of activity, and Mike is making a few squeeks in Central Virginia. Do read on, oh, do read on.





ROBBIE SCHAEFER's AUGUST & BEYOND...


Friday and Saturday, August 3-4, 7pm
Signature Theatre, Arlington, VA

Solo Concert
ONLY A FEW TICKETS LEFT EACH NIGHT!

Saturday, August 24, 7pm
Koberna House Concert Series, Kent, OH
An Evening Under the Stars with Robbie Schaefer, Sara Niemietz, and Snuffy Walden

Friday-Sunday, November 9-11
Songwriting Weekend Workshop, The Insight Shop, Vienna, VA
Whether you're a seasoned songwriter stuck in a rut, a bedroom poet searching for a new home for your words, or a lifelong accountant feeling the urge to try something new and (a bit) scary, Robbie Schaefer will help you (re)discover your most authentic voice and introduce you to a few nifty tools and strategies along the way. Over the course of the weekend workshop, Robbie will break down the writing process of his own songs, lead the group through creativity exercises, and help participants open to their own unique channels of creativity and self-expression. And snacks. He'll provide snacks.


Miss the tunes from LIGHT YEARS? They're all just waiting to be whispered into your ear.

Get: https://robbieschaefer.hearnow.com/

Robbie Schaefer's Sounds Like Home: Songs From Light Years is a collection of songs from his forthcoming musical, Sounds Like Home features Jake Armerding (Eddie From Ohio) on fiddle and Daniel Clarke (kd Lang, Ryan Adams) on piano. The CD is now out and will be available at the upcoming performances.

Check out Robbie's OneVoice community by clicking http://www.onevoicecommunity.org/ OneVoice
Robbie's new and improved website is also up: http://robbieschaefer.com
His Facebook page
https://www.facebook.com/pages/Robbie-Schaefer/39512778003?ref=hl





MICHAEL CLEM's AUGUST
EFO's Michael Clem cools off after a busy July with a nice light month...

Th/Aug 16 MICHAEL CLEM TRIO, Stinson Vineyards, Crozet VA 6-9pm
Sa/Sept 1 Michael Clem SOLO at Knights Gambit Vineyard, Charlottesville VA 5-8pm

Details for all MC shows at http://michaelclem.com/events/

Also, check out the brand new Susie & The Pistols website, complete with a new video. https://susieandthepistols.com

CLEM'S WEBSITE
http://www.michaelclem.com/
Lots of show details & information there

Available at CD Baby, iTunes & Amazon.com
Follow Michael Clem on Twitter @JFishMusic
LIKE THE MICHAEL CLEM & MICHAEL CLEM TRIO ON FACEBOOK
Click https://www.facebook.com/michaelclemtrio?ref=hl
Finally, all kinds of Clem Swag is available at
Red Bubble's Michael Clem Page http://www.redbubble.com/people/michaelclem/works/18630649-clem-swag?ref=recent-owner
CDs at https://bulletproofartists.com/product-category/michael-clem/




EDDIE FROM OHIO'S 1992 LIVE! AT THE BIRCHMERE CASSETTE RE-RELEASED!

Our first recording was a cassette - looong out of print, but it's NOW AVAILABLE FOR DIGITAL DOWNLOAD!

On April 14, 1992, EFO took part in the WAMA Crosstown Jam. Our multi-act showcase was at The Birchmere in Arlandria VA (its legendary 2nd location directly on Mt Vernon Ave, blocks from the current locale). The wonderful house sound engineer, Billy Wolf, honored our request to make a board tape of our set. We couldn't believe the results of his beautiful mix, and decided to make a cassette for sale at our shows - a tape we referred to as "The 6 Pack". We moved a whole bunch of units at 5 bucks each, and it marked the beginning of growing our audience around our original music, and not just our covers. It also marked the beginning of an incredible relationship with Billy, who essentially took us under his wing, mentored us, and worked with us in earnest in the studio (producing 8 albums!) as well as other live projects. BOOya, Billy!

This recording has been out of circulation for some time, but a recent discovery of a fairly clean copy inspired us to make it available again. Hear us in all our infant glory (two acoustic guitars & hand percussion -- as well as Robbie on some killer guirro on track 5).

Go back in time to the days of Robbie's fanny pack, Mike's mullet, Eddie's dashiki, & Julie's midi dress w/combat boots. No pictures, just audio. You'll simply have to "imagine us" while you listen.
https://store.cdbaby.com/cd/eddiefromohio10





EFO 3 SONG SET CAPTURED ON VIDEO IN NYC
While we were at the ever-hospitable City Winery in New York City, we partook in one of their fine offerings: an intimate live video, professionally shot and edited called "Cellar Sessions, One on One".
See the results for yourself on our video page
https://eddiefromohio.com/video





EFO MUSIC ON THE INTERNET

A number of you have reached out to us noticing that our music was no longer available at such platforms as Spotify, YouTube, etc… You're very astute, but there's no cause for long term alarm. We have been in the process of re-aligning all of our digital distribution which involved pulling down all of our music, and reloading with the good folks at CD Baby. From there, most of the internet partners you've come to know and love will eventually carry our titles, as well. In the meantime - all of EFO's music is available for digital download at https://store.cdbaby.com/Search/ZWRkaWUgZnJvbSBvaGlv/0

Some hard copies for a few of the albums are available at BULLETPROOF, https://bulletproofartists.com/product-category/eddie-from-ohio/, but all digital downloads are available at CD Baby. iTunes, Amazon, and others will soon follow, hopefully within the month.





EFO SHIRTS ARE BACK!!

All you Edheads who've been waiting to replace your EFO swag - well, now's your chance. Check outhttp://www.redbubble.com/people/eddiefromohio Red Bubble's EFO Site. Our good friend and master artist Oslo, has put up some past logos, and now you can design your own shirts, hoodies,even a cell phone case! Pick your color, pick your style, pick your logo - it's so easy and PayPal-friendly!





EFO SHOWS OF YORE UPLOADED FOR YOUR LISTENING PLEASURE
Many shows have been uploaded to http://archive.org/details/EddieFromOhio.
Performances from all over the country at all different stages in our quarter century career.



OTHER NEWS

TWITTER- Follow us @virginiasoul
LIKE US ON FACEBOOK - Lots of news gets posted there, too.
Click https://www.facebook.com/pages/Eddie-From-Ohio/7419303387?ref=hl
For EFO and solo merch. Go to https://bulletproofartists.com/product-category/eddie-from-ohio/. Check out Bulletproof's new improved site!
FOLK ON, FOLK OFF !
juliemikeeddie&robbie
email us at eddiefromohio@gmail.com