EDDIE FROM OHIO JULY 2018 EMAILER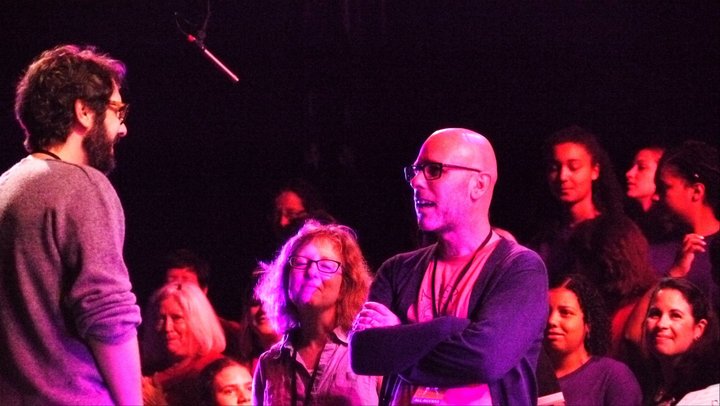 HAPPY INDEPENDENCE DAY MONTH, EDHEADS, FROM YOUR FAVORITE INDEPENDENT BAND


"OMG, is that who I think it is... speaking with you know who??!!" asks the gobsmacked reader. Yep. That's our own Robbie Schaefer on stage with Josh Groban. In June, Robbie performed his song A Small Light (from his musical Light Years) at LIVE ART: LOVE, a collaborative evening of music, dance, and visual art at the Altria Theatre in Richmond, VA. The annual show features over 200 youth with and without disabilities working alongside nationally recognized artists to create a performance focused on love, mutual respect, and individual and collective dignity. In addition to Robbie's performance, this year's show included Sara Bareilles, Jason Mraz, Josh Groban, Michael McDonald, and many others. You can check out more about this event by visiting https://www.altriatheater.com/events/detail/sparc-live-art-love-richmond-2018-tickets

June proved to be quite a rewarding month. Julie's "Lil Man" graduated from High School, Eddie & Mike got to jam together for a private event in Walton's country, The Capitals brought home their first Cup, and DC is gearing up to host the MLB All-Star Game. Read on and you'll find some exciting activity a-brewin between MA & VA...




ROBBIE SCHAEFER's JULY & BEYOND...

JUST ANNOUNCED
Saturday, July 21
Robbie Schaefer and Jake Armerding
The Center for the Arts in Natick
Natick, MA
http://natickarts.org/performance/jake-armerding-and-robbie-schaefer-2018-07-21

August 3-4
"All My Songs Are True (and other lies I love to tell you)"
Robbie Schaefer in concert
Signature Theatre
Arlington, VA
Aug3: https://www.sigtheatre.org/events/2018-19/sizzlin-summer-with-robbie-schaefer/
Aug 4: https://www.sigtheatre.org/events/2018-19/sizzlin-summer-with-robbie-schaefer-2/

Miss the tunes from LIGHT YEARS? They're all just waiting to be whispered into your ear.

Get: https://robbieschaefer.hearnow.com/

Robbie Schaefer's Sounds Like Home: Songs From Light Years is a collection of songs from his forthcoming musical, Sounds Like Home features Jake Armerding (Eddie From Ohio) on fiddle and Daniel Clarke (kd Lang, Ryan Adams) on piano. The CD is now out and will be available at the upcoming performances.

Check out Robbie's OneVoice community by clicking http://www.onevoicecommunity.org/ OneVoice
Robbie's new and improved website is also up: http://robbieschaefer.com
His Facebook page
https://www.facebook.com/pages/Robbie-Schaefer/39512778003?ref=hl





MICHAEL CLEM's JULY (w/some late JUNE)
EFO's Michael Clem celebrates 10 years of living in Charlottesville VA, by playing lots of music...

Fr/June 29 Susie & The Pistols, Chisholm Vineyards, Earlysville VA 6-9pm
Sa/June 30 Susie & The Pistols, Rich's Mountaintime Music House Concert, Charlottesville VA 6-9pm
Su/July 1 Susie & The Pistols, Blenheim Vineyards, Charlottesville VA 3-5pm
We/July 4 duo w/Andrew Green, King Family Vineyards, Crozet VA 12-3pm
Th/July 5 Susie & The Pistols, Castle Hill Cider, Keswick VA 6-8pm
Fr/July 6 Susie & The Pistols, LIVE on WTJU @ Belmont Arts Collaborative, Charlottesville VA 8-9pm
Sa/July 7 SOLO at Knights Gambit Vineyard, Charlottesville VA 5-8pm
Fr/July 13 Crewe de Bayou, Chisholm Vineyards, Earlysville VA 6-9pm
Sa/July 14 Susie & The Pistols, Summer Extravaganza, Waynesboro VA 12-2pm
Sa/July 14 Susie & The Pistols, Cunningham Creek Winery, Palmyra VA 6-9pm
Su/July 15 Cville Songwriting Open Mic, Chisholm Vineyards, Earlysville VA 7-9pm
We/July 18 SOLO at NOWyoga, Charlottesville VA 7:30-8:30pm
Sa/July 21 Michael Clem Trio of Five, Batesville Market, Batesville VA 6:30-9pm

Details for all MC shows at http://michaelclem.com/events/

Also, check out the brand new Susie & The Pistols website, complete with a new video. https://susieandthepistols.com

CLEM'S WEBSITE
http://www.michaelclem.com/
Lots of show details & information there

Available at CD Baby, iTunes & Amazon.com
Follow Michael Clem on Twitter @JFishMusic
LIKE THE MICHAEL CLEM & MICHAEL CLEM TRIO ON FACEBOOK
Click https://www.facebook.com/michaelclemtrio?ref=hl
Finally, all kinds of Clem Swag is available at
Red Bubble's Michael Clem Page http://www.redbubble.com/people/michaelclem/works/18630649-clem-swag?ref=recent-owner
CDs at https://bulletproofartists.com/product-category/michael-clem/




ETHAN SCHAEFER RELEASES FIRST SOLO ALBUM & RELEASE DATE AT JAMMIN JAVA JULY 17

Robbie's middle boy, Ethan, who has already been winning over audiences with his live set, has just released a collection of 8 original songs. Entitled Lost Lover Found, you can find this work at the following websites listed below. Also, mark your calendars for his CD Release date at Vienna VA's Jammin Java, July 17. The hometown hero should be packing it in, so secure your seat now! More info here: https://www.facebook.com/events/169428337055099/

Spotify: https://open.spotify.com/album/2WlqvWauqEQC7pghULlcUr?si=tLB2ndixQpaR02E_2ciY4w
iTunes: https://itunes.apple.com/…/album/lost-lover-found/1363633987
SoundCloud: https://soundcloud.com/ethan-j-schaef…/sets/lost-lover-found
YouTube: https://www.youtube.com/watch?v=tO8Pmj08e6A
Bandcamp: https://schaeferethan.bandcamp.com/album/lost-lover-found
CD Baby: http://store.cdbaby.com/cd/ethanschaefer2





EDDIE FROM OHIO'S 1992 LIVE! AT THE BIRCHMERE CASSETTE RE-RELEASED!

Our first recording was a cassette - looong out of print, but it's NOW AVAILABLE FOR DIGITAL DOWNLOAD!

On April 14, 1992, EFO took part in the WAMA Crosstown Jam. Our multi-act showcase was at The Birchmere in Arlandria VA (its legendary 2nd location directly on Mt Vernon Ave, blocks from the current locale). The wonderful house sound engineer, Billy Wolf, honored our request to make a board tape of our set. We couldn't believe the results of his beautiful mix, and decided to make a cassette for sale at our shows - a tape we referred to as "The 6 Pack". We moved a whole bunch of units at 5 bucks each, and it marked the beginning of growing our audience around our original music, and not just our covers. It also marked the beginning of an incredible relationship with Billy, who essentially took us under his wing, mentored us, and worked with us in earnest in the studio (producing 8 albums!) as well as other live projects. BOOya, Billy!

This recording has been out of circulation for some time, but a recent discovery of a fairly clean copy inspired us to make it available again. Hear us in all our infant glory (two acoustic guitars & hand percussion -- as well as Robbie on some killer guirro on track 5).

Go back in time to the days of Robbie's fanny pack, Mike's mullet, Eddie's dashiki, & Julie's midi dress w/combat boots. No pictures, just audio. You'll simply have to "imagine us" while you listen.
https://store.cdbaby.com/cd/eddiefromohio10





EFO 3 SONG SET CAPTURED ON VIDEO IN NYC
While we were at the ever-hospitable City Winery in New York City, we partook in one of their fine offerings: an intimate live video, professionally shot and edited called "Cellar Sessions, One on One".
See the results for yourself on our video page
https://eddiefromohio.com/video





EFO MUSIC ON THE INTERNET

A number of you have reached out to us noticing that our music was no longer available at such platforms as Spotify, YouTube, etc… You're very astute, but there's no cause for long term alarm. We have been in the process of re-aligning all of our digital distribution which involved pulling down all of our music, and reloading with the good folks at CD Baby. From there, most of the internet partners you've come to know and love will eventually carry our titles, as well. In the meantime - all of EFO's music is available for digital download at https://store.cdbaby.com/Search/ZWRkaWUgZnJvbSBvaGlv/0

Some hard copies for a few of the albums are available at BULLETPROOF, https://bulletproofartists.com/product-category/eddie-from-ohio/, but all digital downloads are available at CD Baby. iTunes, Amazon, and others will soon follow, hopefully within the month.





EFO SHIRTS ARE BACK!!

All you Edheads who've been waiting to replace your EFO swag - well, now's your chance. Check outhttp://www.redbubble.com/people/eddiefromohio Red Bubble's EFO Site. Our good friend and master artist Oslo, has put up some past logos, and now you can design your own shirts, hoodies,even a cell phone case! Pick your color, pick your style, pick your logo - it's so easy and PayPal-friendly!





EFO SHOWS OF YORE UPLOADED FOR YOUR LISTENING PLEASURE
Many shows have been uploaded to http://archive.org/details/EddieFromOhio.
Performances from all over the country at all different stages in our quarter century career.



OTHER NEWS

TWITTER- Follow us @virginiasoul
LIKE US ON FACEBOOK - Lots of news gets posted there, too.
Click https://www.facebook.com/pages/Eddie-From-Ohio/7419303387?ref=hl
For EFO and solo merch. Go to https://bulletproofartists.com/product-category/eddie-from-ohio/. Check out Bulletproof's new improved site!
HAVE A FOLKIN FOURTH !
juliemikeeddie&robbie
email us at eddiefromohio@gmail.com