EDDIE FROM OHIO'S FEBRUARY 2009 EMAILER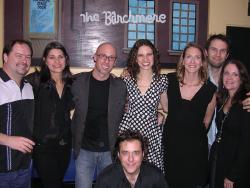 Thank you to all who came out in force for our three sold-out nights at The Birchmere.
We're gonna have a tough time showing up on stage anywhere without
Jake Armerding
. Not only did he deliver fine opening sets the first two nights, he also accompanied EFO on fiddle and mandolin all three nights. We promise you, it won't be the last time you see Jake with us. And how about
Red Molly
at Sunday's show? They won many new fans with their opening set - fans who shouldn't forget that Red Molly's triumphant return to the Northern Virginia area will be Friday, February 27 at Jammin Java in Vienna.
There are no EFO shows in February, but
Julie
will be reprising her
Sophisticated Lady
show at the Barns of Wolf Trap on Friday the 13th (this show has been sold out for quite some
time).
Mike
will be an honorary member of The Pollocks at their CD release show on Saturday, February 7 at
The Gravity Lounge
in Charlottesville, VA.
Robbie
's playing plenty this month as you can read below. We're proud to announce that his new song "Carolina" has been added to rotation on Sirius/XM's The Loft.
You'll see we've got a number dates in March (Massachussetts & Annapolis MD).
Tickets are moving fast for all the shows, so don't delay.
Be sure to visit our
Facebook Page
, and be among the 2,100-plus Edheads who have signed up.
ROBBIE NEW CD & TOUR DATES
For more info, go to Robbie's new website.
RobbieSchaefer.com
January 26-February 23
Songwriting Class:
Robbie is teaching a songwriting class
as part of the new "Inside the Arts"
Creative Courses for Adults at Wolf Trap
beginning January 26, 2009.
Registration open now- Go to Wolf Trap's
website
Thu, 29 Jan. '09
House Concert
Chicago, IL
Fri, 30 Jan. '09
House Concert
Avon Lake, OH USA
Sat, 31 Jan. '09
Brighton Center for the Performing Arts
Brighton, MI
Fri, 20 Feb. '09
Evening Muse
Charlotte, NC
Sat, 21 Feb. '09
Eddie's Attic
DeCatur, GA
Sat, 21 Feb. '09
Eddie's Attic
DeCatur, GA
Sun, 22 Feb. '09
Lyric Theatre
Blacksburg, VA
Hope Everyone's Having a Fine '09!
juliemikeeddie&robbie
Folk-Rockin' Your World Since 1991