EDDIE FROM OHIO'S APRIL 2009 EMAILER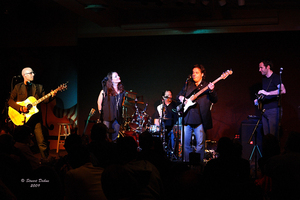 Greetings, Edheads
Thanks to all who helped fill our shows in Massachusetts and Maryland this past month. A few pics from the Rams Head have been posted thanks to the photo work of
Stuart Dahne
. Check out his
gallery
.
:ROBBIE OUT SOLO, MIKE OUT WITH ELLIS PAUL:
There are no EFO shows in April (and that's no April Fool's joke), but
Robbie
will be on a Northeast solo tour at month's end with stops in Hartford CT, NYC & Cambridge MA. Check out
Robbie's website
for details.
This weekend,
Mike
will accompany his friend,
Ellis Paul
, on bass for some Mid-Atlantic shows (Kennet Square PA, Vienna VA & Middletown NY). Check out
Ellis' website
for details.
:JULIE GEARS UP FOR ANNUAL JDRF WALK:
BUBBAS BUDDIES
is back gearing up for its 7th year to participate in JDRFs Walk to Find a Cure, Sunday May 31, Nationals Stadium, Washington DC. Julies kicking off the walk with the National Anthem at 9:45am, and then the walk begins at 10am. Check out
Julie's bio page
for details on how to make a donation, sign up for the walk or just see a great shot of Corey. Your support is greatly appreciated.
You can also visit
Julie's JDRF Fundraising Page
.
:REST IN PEACE, PHIL DAVIDOFF, 1941-2009:
All of the Edhead Cruises were put together by the great Davidoff Family - Phil, Doris and son, Donald of
Fan Club Cruises
. Phil passed away from complications of pneumonia March 19 at Boca Raton Community Hospital in Florida. He will be missed. Getting a hundred Edheads together from all over the country and boarded safely on a large cruise ship is quite a daunting task. We couldn't have been in better hands.
Phil's Washington Post obit
.
:OTHER NEWS:
We're pleased to announce an exciting pair of double bills with 90's radio darlings
Toad the Wet Sprocket
on May 21 (The New National Harbor, MD) and May 22 (Fredericksburg, VA) at two outdoor concert series. It will be our first time at both venues, as well as our first time to share the stage with Toad. Visit our
CALENDAR
page for details.
Don't forget about Robbie's new CD
Strange and Lovely World
. We're proud to announce that his song "Carolina" has been added to rotation on
Sirius/XM's The Loft
.
Be sure to visit our
Facebook Page
, and be among the 2,700 Edheads who have signed up.
All EFO and solo merch can be found at
Bulletproof Store
Thanks for all the emails!
Hope to see you at a show soon
juliemikeeddie&robbie
Folk-Rockin' Your World Since 1991
photo by Stuart Dahne