EDDIE FROM OHIO'S DECEMBER 2008 EMAILER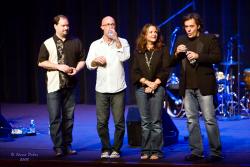 : Season's Greetings, Edheads! :
There are no EFO shows this month, but we do have Robbie's big release date on the 12th (see below). We hope everyone had a great Thanksgiving and a safe Black Friday.
Speaking of holiday shopping, all your EFO stocking stuffer needs can be found at
Bulletproof Store
.
...and don't forget Julie's line of Silpada Jewelry, click
here
.
: THE BIRCHMERE JANUARY 16, 17 & 18, 2009, ALEXANDRIA VA :
It's pretty much become an annual tradition: a three-night run at the Birch to
kick off the New Year (right before Inauguration Week, and Monday is Martin Luther
King Day). This year we're pleased to have
Jake Armerding
join us on stage all three nights. Many of you remember him from his stellar performance with us at Wolf Trap this past August. He will also be opening Friday & Saturday's shows - a great solo act. Opening Sunday night will be the fabulous
Red Molly
, a female trio from the Northeast who came together at the Falcon Ridge Folk Festival from late night jam sessions. They've also contributed to Robbie's new solo CD. We're also pleased to announce that, like last year, we will be recording our set each night and selling CDs at show's end. These CDs will only be available on those nights. Another tradition is that these shows tend to sell out in advance, so don't delay being part of our great hometown rite of passage.
For more info click
here
.
: ROBBIE RELEASES NEW CD DECEMBER 12 :
On Friday, December 12, at Jammin Java in Vienna VA, our own Robbie Schaefer
will release
Strange & Lovely World
, thirteen brand new originals
by tunesmith Schaefer. Not only is the CD produced by the multi-talented
by John Jennings, but JJ will be joining Robbie on stage at this special
release show. For more info, go to Robbie's new website.
RobbieSchaefer.com
other events coming up for Robbie include:
December 31
Jammin Java
Vienna, VA
Kid's New Year's Eve Shows w/ Rocknoceros
11am and 2pm
jamminjava.com
January 3
Gravity Lounge
Charlottesville, VA
co-bill with Ellis Paul
GravityLounge.com
January 26-February 23
Songwriting Class:
Robbie is teaching a songwriting class
as part of the new "Inside the Arts"
Creative Courses for Adults at Wolf Trap
beginning January 26, 2009.
Registration open now- Go to Wolf Trap's
website
Have a Very Merry December!
juliemikeeddie&robbie
Folk-Rockin' Your World Since 1991
photo by Stuart Dahne