EDDIE FROM OHIO MAY 2021 EMAILER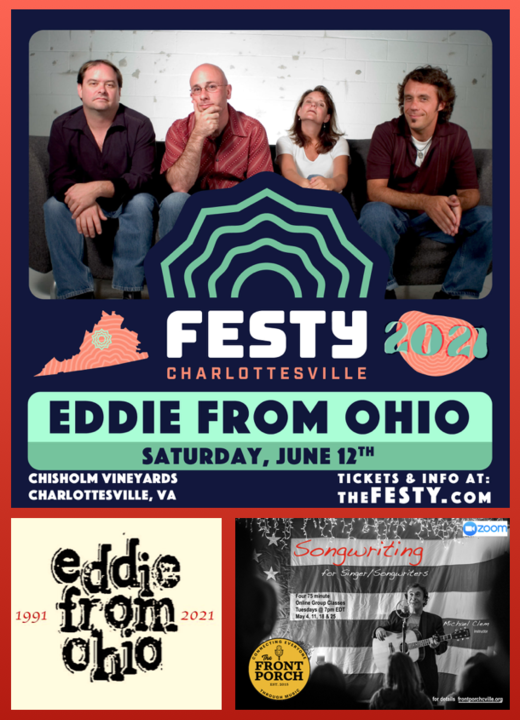 Greetings Edheads

Like we announced in our April emailer, the good folks at The FESTY (Charlottesville VA) are including us in their stellar 2021 music lineup. Over the past decade, The FESTY has evolved from a weekend festival at different locations to a protracted Concert Series. They have secured a beautiful location at Chisholm Vineyards in Earlysville VA near the Cville airport. The tickets for this June 12 show go on sale TODAY! Please visit their website for more details, and you can also read about how they are practicing safety measures and social distancing. http://theFESTY.com

Our 30th Anniversary Cruise scheduled for this August has been moved to August 2022. Please see the details below.

We celebrated our 30th Anniversary on February 3. If you missed them, here are the URLs for the anniversary videos that were made for the occasion.

You can view the EDDIE FROM OHIO - THROUGH THE YEARS, clicking HERE. (https://youtu.be/6daKZtbuVjY)

If you don't have 139 minutes to spare, you might be interested in the Overture Montage
You can view EDDIE FROM OHIO - THIRTY YEARS IN FIVE MINUTES, clicking HERE. (https://youtu.be/JBk-3jKKb7oz)

If you missed it last emailer, Scott also put together another wonderful video from our 25th Anniversary shows.
You can view the Eddie from Ohio 25th Anniversary Show, 2016, clicking HERE. (https://youtu.be/K8ulr9kQbwo)


Read on for other EFO related news...





EDHEAD 30TH ANNIVERSARY CRUISE MOVED TO 2022

Here is the letter that went out to all the Edheads Cruisers from Fan Club Cruises


Hey Edhead Cruisers,
We finally have some certainty on what we're going to do with the EFO 30th anniversary cruise. While the cruise line continues to explore ways to have some partial Alaska cruise season, it's increasingly clear that a) our sailing is most at risk since it originates in Vancouver and b) ongoing uncertainty about whether and when to purchase travel arrangements, etc. is simply not tenable.
Therefore, the band and we have decided to move the cruise to August 7-15, 2022. Same ship, same itinerary. And with Celebrity's "Lift and Shift" policy, we're pleased to announce that the pricing will remain exactly the same as well.
If you want to keep your reservation, there is literally nothing you need to do. We will work with the cruise line to move your reservation. You will get a new confirmation number and likely a new cabin number. That process may take several weeks, but there's obviously now plenty of time.
If you selected travel insurance, we will reach out to you in the next couple of weeks as Travel Insured no longer offers the group program we were using. They are announcing some new policies and pricing in just a few days, so we will wait to learn more about that and then contact you individually.
If you have any questions, please don't hesitate to reach out to Dana or me. We appreciate your patience and understanding throughout this process and hope you are as excited about the opportunity to share an incredible experience with Julie, Mike, Eddie and Robbie (and Bob)…just one year deferred.

The Edhead Cruise webpage - https://fanclubcruises.com/event/eddie-from-ohio-alaska-experience





MICHAEL CLEM OFFERS SONGWRITING COURSE ON ZOOM IN MAY (still room!)

For the 9th time, EFO's Michael Clem will offer his Songwriting course through The Front Porch in Charlottesville VA. Once again, the group class will be offered on Zoom, so you can enroll from anywhere (and many have). The four 75 minute classes will run on Tuesdays in May at 7pm EST. Sign up here https://frontporchcville.org/product/songwriting-for-singer-songwriters-w-michael-clem/

Having written a bunch of tunes over the pandemic slowdown, EFO's Michael Clem has teamed up with friend/producer Rusty Speidel to record five of them for the new EP Rivannarama, released January 12. The feedback thus far has been quite positive with many listeners describing the collection as shots of melancholy with a mirth chaser. Others have felt inspiration through MC's comical tragedies as though watching a birthday party clown fall down a spiral staircase while still landing on his very large feet. It's all the foot-stomping, head-scratching joyous confusion you've come to expect from a Clem release.

ORDER A LIMITED EDITION HARD COPY ON CD (U.S. Only)
Send $10 via
Venmo – @Michael-Clem-4
or PayPal – jfishmusic@hotmail.com
please include your mailing address in the message
OR
ORDER A DIGITAL DOWNLOAD
http://michaelclem.bandcamp.com

Here's Clem's May
Sa/1 duo w/Rusty Speidel @ Knight's Gambit, Charlottesville VA 5-8pm
Su/9 solo @ Montifalco Vineyard, Advance Mills VA noon-3pm
Th/13 solo opening for "Pop Up" Play THE PARKING LOT, Falls Church VA 7pm
Su/16 duo w/Rusty Speidel @ Hark Vineyards, Earlysville VA 1-4pm
Sa/22 duo w/Rusty Speidel @ Eastwood Farm & Winery, Charlottesville VA 4-8pm
fr/28 playing bass w/Crewe de Bayou @ Chisholm Vineyards VA 6-9pm

Now available for House Concerts with the warmer weather & outdoor options
https://michaelclem.com/house-concerts/

For all things MC visit http://michaelclem.com
MC's Facebook page https://www.facebook.com/michaelclemmusic





ALL THINGS ROBBIE SCHAEFER


Robbie Schaefer's New Podcast
I have a new PODCAST. It's called Walk With Me and what happens is I take walks and you . . . well, you walk with me. Virtually. Figuratively. And I talk and play music since I'm good at both those things.
Here's a link to a FREE one. If you like it, there's plenty more where that came from on my
Patreon
page. You can hear 'em all (and get other exclusive music and goodies) for just $10 a month.
WALK WITH ME (Ep.2): Flight Club











EDDIE FROM OHIO'S 1992 LIVE! AT THE BIRCHMERE CASSETTE RE-RELEASED!

Our first recording was a cassette - looong out of print, but it's NOW AVAILABLE FOR DIGITAL DOWNLOAD!

On April 14, 1992, EFO took part in the WAMA Crosstown Jam. Our multi-act showcase was at The Birchmere in Arlandria VA (its legendary 2nd location directly on Mt Vernon Ave, blocks from the current locale). The wonderful house sound engineer, Billy Wolf, honored our request to make a board tape of our set. We couldn't believe the results of his beautiful mix, and decided to make a cassette for sale at our shows - a tape we referred to as "The 6 Pack". We moved a whole bunch of units at 5 bucks each, and it marked the beginning of growing our audience around our original music, and not just our covers. It also marked the beginning of an incredible relationship with Billy, who essentially took us under his wing, mentored us, and worked with us in earnest in the studio (producing 8 albums!) as well as other live projects. BOOya, Billy!

This recording has been out of circulation for some time, but a recent discovery of a fairly clean copy inspired us to make it available again. Hear us in all our infant glory (two acoustic guitars & hand percussion -- as well as Robbie on some killer guirro on track 5).

Go back in time to the days of Robbie's fanny pack, Mike's mullet, Eddie's dashiki, & Julie's midi dress w/combat boots. No pictures, just audio. You'll simply have to "imagine us" while you listen.
https://www.amazon.com/Live-at-Birchmere-Eddie-Ohio/dp/B077XJQ3MR/ref=sr_1_8?dchild=1&keywords=eddie+from+ohio&qid=1599075912&sr=8-8




EDDIE FROM OHIO WOLF TRAP VIDEO

In case you missed it, our friends at Wolf Trap released a live performance of your folk foursome for their "Park Pop-Ups" series. The video is still up for your viewing pleasure:
https://www.wolftrap.org/calendar/performance/sessions/eddiefromohio.aspx#datetime=08012020T160000




EFO 3 SONG SET CAPTURED ON VIDEO IN NYC
While we were at the ever-hospitable City Winery in New York City, we partook in one of their fine offerings: an intimate live video, professionally shot and edited called "Cellar Sessions, One on One".
See the results for yourself on our video page
https://eddiefromohio.com/video





EFO MUSIC ON THE INTERNET

All of EFO's music is available for digital download at https://www.amazon.com/s?k=eddie+from+ohio&ref=nb_sb_noss_1

Hard copies (what are left) are now only available at our live performances, but all digital downloads are available at iTunes, Amazon, and others.





EFO SHIRTS ARE BACK!!

All you Edheads who've been waiting to replace your EFO swag - well, now's your chance. Check out http://www.redbubble.com/people/eddiefromohio Red Bubble's EFO Site. Our good friend and master artist Oslo, has put up some past logos, and now you can design your own shirts, hoodies,even a cell phone case! Pick your color, pick your style, pick your logo - it's so easy and PayPal-friendly. See more from Oslo, at his website, http://oslographics.com






EFO SHOWS OF YORE UPLOADED FOR YOUR LISTENING PLEASURE
Many shows have been uploaded to http://archive.org/details/EddieFromOhio.
Performances from all over the country at all different stages in our quarter century career.




OTHER NEWS

TWITTER- Follow us @virginiasoul
LIKE US ON FACEBOOK - Lots of news gets posted there, too.
Click https://www.facebook.com/eddiefromohio





THANKS FOR ALL THE LOVE THE PAST 30 YEARS - HERE'S TO MORE !
juliemikeeddie&robbie
email us at eddiefromohio@gmail.com