EDDIE FROM OHIO JANUARY 2021 EMAILER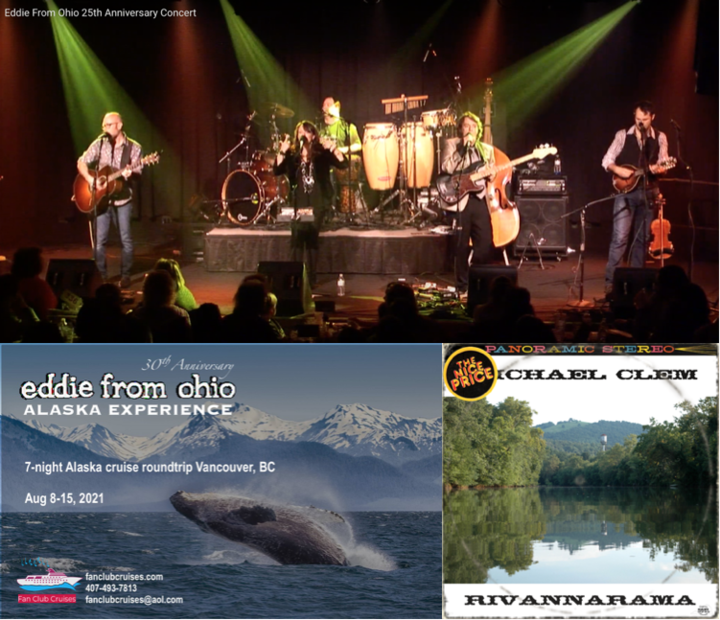 Happy 2021, Edheads
As we broke the news last Ohioan e-letter, the annual Birchmere weekend shows over the MLK weekend will not be happening. Tis a bummer, given the EFO 30th Anniversary theme we had wrapped around it, but given the current pandemic situation it has been decided that it's best not to put anybody at risk, especially during the highly vulnerable colder season. HOWEVER, our good friend, Scott Tresize, has put together a wonderful video from our 25th Anniversary weekend back in 2016. These were a special batch of sold-out all-request shows. Scott has posted the Saturday performance from that weekend. There are some great classic EFO moments of many of your favorite tunes. There's also a bonus performance of "Space Oddity" as a tribute to the recently departed David Bowie from earlier that week. Thanks to Scott (& Kenzie) for putting this together, and for the whole Birchmere family, plus our EFO team who were all instrumental behind the scenes.

You can view the EFO 25th Anniversary Show at the Birchmere, 2016, clicking HERE.

Despite the present status of the slowed cruise industry , we're still a GO (until we hear otherwise) for our cruise next August, celebrating our 30th Anniversary! We have some exciting things we're adding to the trip itin. More info to come.
Below is an update from our friends at Fan Club Cruises addressing many of the questions about upcoming plans.
For all Cruise information, visit here
https://fanclubcruises.com/event/eddie-from-ohio-alaska-experience%20
Read on for other EFO related news...





MICHAEL CLEM RELEASES EP "RIVANNARAMA" ON JANUARY 12
JAMMIN JAVA RELEASE DATE ON SATURDAY JANUARY 9

Having written a bunch of tunes over the pandemic slowdown, EFO's Michael Clem has teamed up with friend/producer Rusty Speidel to record five of them for an upcoming EP Rivannarama, due out Tuesday, January 12, 2021 at all the common online market places for your streaming needs (Bandcamp, iTunes, Amazon, Spotify, etc.). On Saturday, January 9, Clem will make his annual bday show appearance at Jammin Java in Vienna VA for a special CD release date. Limited hardcopies will be made, and each ticket holder in attendance will receive ONE FREE COPY. Additional copies will be available for purchase at the show. Billed as "Indoors & Distanced" - this show will be limited capacity (55), and a smaller act (duo with Rusty as opposed to full band), but promises to be a whole lotta of fun. Visit https://www.jamminjava.com/e/-indoors-distanced-michael-clem-with-rusty-speidel-127054676959/ for details.

Here's Clem's January
We/6 Michael Clem goes track by track through "Rivannarama" WTJU 91.1FM in Charlottesville, 4pm.
Stream online at wtju.net
Sa/9 duo w/Rusty Speidel @ Jammin Java, Vienna VA 7:30pm - *EP Rivannarama Release*
Mo/11 Michael Clem on Stevie Coyle's Monday Night Thing, 10PM online - visit http:facebook.com/steviecoyle
Tu/12 RIVANNARAMA RELEASE! - Go to https://michaelclem.bandcamp.com/releases for your digital download!

NEXT MONTH Clem will offer his four week online course on "Songwriting for Singer/Songwriters" on ZOOM
Tuesdays February 2, 9, 16 & 23 at 7-8:15pm
visit https://frontporchcville.org/product/songwriting-for-singer-songwriters-w-michael-clem/

For all things MC visit http://michaelclem.com
MC's Facebook page https://www.facebook.com/michaelclemmusic





ROBBIE HAS STARTED A NEW PODCAST ON PATREON

Here is EFO's Robbie Schaefer in his own words letting you know about his new podcast "Walk With Me":
I have a new PODCAST. It's called Walk With Me and what happens is I take walks and you . . . well, you walk with me. Virtually. Figuratively. And I talk and play music since I'm good at both those things.
Here's a link to a FREE one. If you like it, there's plenty more where that came from on my
page. You can hear 'em all (and get other exclusive music and goodies) for just $10 a month.
WALK WITH ME (Ep.2): Flight Club
EFO 30th ANNIVERSARY CRUISE UPDATE (FROM FAN CLUB CRUISES)

While the Cruise industry is presently quiet, August 2021 is a whole nine months away, so here's a message from our faithful trip coordinator friends at Fan Club Cruises:


The CDC has removed the 'no sail' order and replaced it with a 'conditional sail' order. Celebrity is busy working on the protocols needed to be allowed to sail
Celebrity commissioned a blue ribbon panel on health issues which issued a massive report on a whole slew of things to make cruising safe going forward. See https://www.celebritycruises.com/health-and-safety for some more information
With the Pfizer vaccine submitted for emergency authorization and Moderna about to submit as well, I'm estimating that vaccines will be widely distributed by Jun/Jul 2021 (my best guess, not any clinical guarantee). That means we are in good shape for people to be completely safe with a August 2021 sailing. Final payments are due early May, so hopefully folks will feel safe making those payments.
To help support that, Celebrity has extended their "Cruise with confidence" program to include anyone who booked or books our sailing prior to January 31. This means that they can get a 100% future cruise credit up to 48 hours before sailing should they not feel safe for our cruise. We could promote this to fans who haven't yet booked, as they can book now and have that same protection
One more note: Alaska sailings are dependent not just on CDC approval but also on the Canadian government allowing ships into their ports. I have every reason to believe that, once the vaccine is distributed, Canada will allow ships in again. Canada has been more aggressive in their Covid control rules, so we just wanted everyone to be aware of that.




EDDIE FROM OHIO'S 1992 LIVE! AT THE BIRCHMERE CASSETTE RE-RELEASED!

Our first recording was a cassette - looong out of print, but it's NOW AVAILABLE FOR DIGITAL DOWNLOAD!

On April 14, 1992, EFO took part in the WAMA Crosstown Jam. Our multi-act showcase was at The Birchmere in Arlandria VA (its legendary 2nd location directly on Mt Vernon Ave, blocks from the current locale). The wonderful house sound engineer, Billy Wolf, honored our request to make a board tape of our set. We couldn't believe the results of his beautiful mix, and decided to make a cassette for sale at our shows - a tape we referred to as "The 6 Pack". We moved a whole bunch of units at 5 bucks each, and it marked the beginning of growing our audience around our original music, and not just our covers. It also marked the beginning of an incredible relationship with Billy, who essentially took us under his wing, mentored us, and worked with us in earnest in the studio (producing 8 albums!) as well as other live projects. BOOya, Billy!

This recording has been out of circulation for some time, but a recent discovery of a fairly clean copy inspired us to make it available again. Hear us in all our infant glory (two acoustic guitars & hand percussion -- as well as Robbie on some killer guirro on track 5).

Go back in time to the days of Robbie's fanny pack, Mike's mullet, Eddie's dashiki, & Julie's midi dress w/combat boots. No pictures, just audio. You'll simply have to "imagine us" while you listen.
https://www.amazon.com/Live-at-Birchmere-Eddie-Ohio/dp/B077XJQ3MR/ref=sr_1_8?dchild=1&keywords=eddie+from+ohio&qid=1599075912&sr=8-8




EDDIE FROM OHIO WOLF TRAP VIDEO

In case you missed it, our friends at Wolf Trap released a live performance of your folk foursome for their "Park Pop-Ups" series. The video is still up for your viewing pleasure:
https://www.wolftrap.org/calendar/performance/sessions/eddiefromohio.aspx#datetime=08012020T160000




EFO 3 SONG SET CAPTURED ON VIDEO IN NYC
While we were at the ever-hospitable City Winery in New York City, we partook in one of their fine offerings: an intimate live video, professionally shot and edited called "Cellar Sessions, One on One".
See the results for yourself on our video page
https://eddiefromohio.com/video





EFO MUSIC ON THE INTERNET

All of EFO's music is available for digital download at https://www.amazon.com/s?k=eddie+from+ohio&ref=nb_sb_noss_1

Hard copies (what are left) are now only available at our live performances, but all digital downloads are available at iTunes, Amazon, and others.





EFO SHIRTS ARE BACK!! (perfect Holiday gift if you order NOW)

All you Edheads who've been waiting to replace your EFO swag - well, now's your chance. Check out http://www.redbubble.com/people/eddiefromohio Red Bubble's EFO Site. Our good friend and master artist Oslo, has put up some past logos, and now you can design your own shirts, hoodies,even a cell phone case! Pick your color, pick your style, pick your logo - it's so easy and PayPal-friendly. See more from Oslo, at his website, http://oslographics.com






EFO SHOWS OF YORE UPLOADED FOR YOUR LISTENING PLEASURE
Many shows have been uploaded to http://archive.org/details/EddieFromOhio.
Performances from all over the country at all different stages in our quarter century career.




OTHER NEWS

TWITTER- Follow us @virginiasoul
LIKE US ON FACEBOOK - Lots of news gets posted there, too.
Click https://www.facebook.com/eddiefromohio


HERE'S TO A BEAUTIFUL NEW !
juliemikeeddie&robbie
email us at eddiefromohio@gmail.com