EDDIE FROM OHIO OCTOBER 2020 EMAILER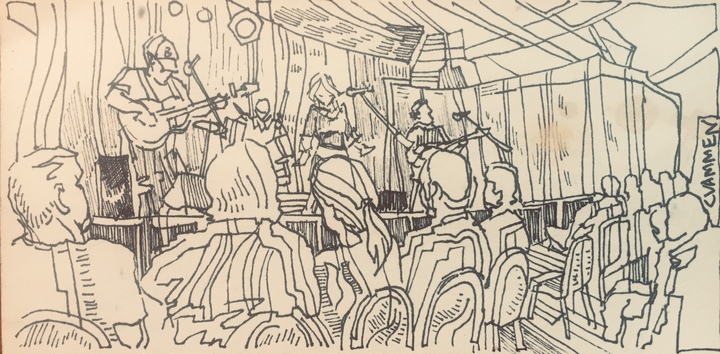 Happy October, Edheads
As we reported last month all of our bookings for the month of September in the Midwest, while not cancelled, were moved to the same weekend in 2021 - just like our Tin Pan show December weekend. The October shows have also been postponed, but the rescheduled dates are TBA. Please mark your calendars accordingly.

Like so many of you, much of our future is up in the air contingent on the developments with the current pandemic. For example, our status for the annual Birchmere weekend in January (15, 16 & 17) is still unknown, but we will post any updates on our website as well as our Facebook page as soon as we hear - please stay tuned.

However, we're still a GO (until we hear otherwise) for our cruise next August, celebrating our 30th Anniversary!
For all Cruise information, visit here
https://fanclubcruises.com/event/eddie-from-ohio-alaska-experience%20
Here's some other EFO related news...





EDDIE FROM OHIO WOLF TRAP VIDEO

In case you missed it, our friends at Wolf Trap released a live performance of your folk foursome for their "Park Pop-Ups" series. The video is still up for your viewing pleasure:
https://www.wolftrap.org/calendar/performance/sessions/eddiefromohio.aspx#datetime=08012020T160000





EFO'S MICHAEL CLEM's OCTOBER

EFO's Michael Clem is taking advantage of socially-safe shows before the sun starts to set earlier & the temps drop.
Here's his Central VA appearances for the month

Fr/2 duo w/ Rusty Speidel @ Bizou/The Lot, Charlottesville VA 6-9pm
Su/4 duo w/ Rusty Speidel @ 12 Ridges Vineyard, Vesuvius VA 1-4pm
Sa/10 solo @ Private House Concert, Charlottesville VA 5pm
Su/11 duo w/Rusty Speidel @ Delfosse Vineyards & Winery, Faber VA 1:30-4:30pm
Fr/16 Girl Group Tribute @ Glass House, Free Union VA 6-9pm
Su/18 duo w/ Rusty Speidel @ Glass House, Free Union VA 3-5:30pm
Fr/23 solo @ Riverbirch Restaurant, Charlottesville VA 6:30-8:30pm
Su/25 duo w/ Rusty Speidel, Cunningham Creek Winery, Palmyra 3:15-6:30pm
Sa/31 solo @ Knight's Gambit Vineyards, Charlottesville VA 5-8pm
For all things MC visit http://michaelclem.com
Still available for safe-distance outdoor house concerts while the weather is nice
Interested? visit https://michaelclem.com/house-concerts/





EDDIE FROM OHIO'S 1992 LIVE! AT THE BIRCHMERE CASSETTE RE-RELEASED!

Our first recording was a cassette - looong out of print, but it's NOW AVAILABLE FOR DIGITAL DOWNLOAD!

On April 14, 1992, EFO took part in the WAMA Crosstown Jam. Our multi-act showcase was at The Birchmere in Arlandria VA (its legendary 2nd location directly on Mt Vernon Ave, blocks from the current locale). The wonderful house sound engineer, Billy Wolf, honored our request to make a board tape of our set. We couldn't believe the results of his beautiful mix, and decided to make a cassette for sale at our shows - a tape we referred to as "The 6 Pack". We moved a whole bunch of units at 5 bucks each, and it marked the beginning of growing our audience around our original music, and not just our covers. It also marked the beginning of an incredible relationship with Billy, who essentially took us under his wing, mentored us, and worked with us in earnest in the studio (producing 8 albums!) as well as other live projects. BOOya, Billy!

This recording has been out of circulation for some time, but a recent discovery of a fairly clean copy inspired us to make it available again. Hear us in all our infant glory (two acoustic guitars & hand percussion -- as well as Robbie on some killer guirro on track 5).

Go back in time to the days of Robbie's fanny pack, Mike's mullet, Eddie's dashiki, & Julie's midi dress w/combat boots. No pictures, just audio. You'll simply have to "imagine us" while you listen.
https://www.amazon.com/Live-at-Birchmere-Eddie-Ohio/dp/B077XJQ3MR/ref=sr_1_8?dchild=1&keywords=eddie+from+ohio&qid=1599075912&sr=8-8





EFO 3 SONG SET CAPTURED ON VIDEO IN NYC
While we were at the ever-hospitable City Winery in New York City, we partook in one of their fine offerings: an intimate live video, professionally shot and edited called "Cellar Sessions, One on One".
See the results for yourself on our video page
https://eddiefromohio.com/video





EFO MUSIC ON THE INTERNET

All of EFO's music is available for digital download at https://www.amazon.com/s?k=eddie+from+ohio&ref=nb_sb_noss_1

Hard copies (what are left) are now only available at our live performances, but all digital downloads are available at iTunes, Amazon, and others.





EFO SHIRTS ARE BACK!!

All you Edheads who've been waiting to replace your EFO swag - well, now's your chance. Check out http://www.redbubble.com/people/eddiefromohio Red Bubble's EFO Site. Our good friend and master artist Oslo, has put up some past logos, and now you can design your own shirts, hoodies,even a cell phone case! Pick your color, pick your style, pick your logo - it's so easy and PayPal-friendly. See more from Oslo, at his website, http://oslographics.com






EFO SHOWS OF YORE UPLOADED FOR YOUR LISTENING PLEASURE
Many shows have been uploaded to http://archive.org/details/EddieFromOhio.
Performances from all over the country at all different stages in our quarter century career.




OTHER NEWS

TWITTER- Follow us @virginiasoul
LIKE US ON FACEBOOK - Lots of news gets posted there, too.
Click https://www.facebook.com/eddiefromohio


SIGN UP FOR THE CRUISE !
juliemikeeddie&robbie
email us at eddiefromohio@gmail.com