EDDIE FROM OHIO'S DECEMBER 2017 EMAILER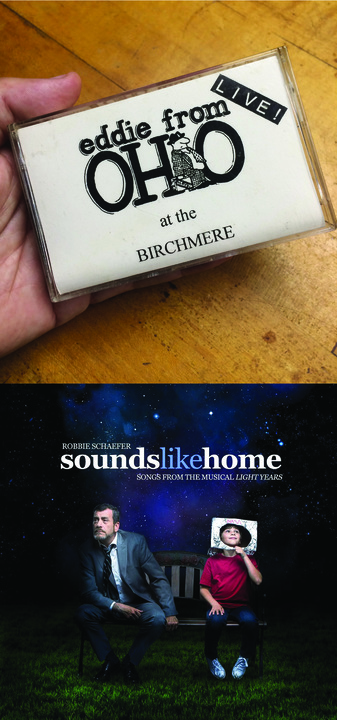 Happy Holidays, Edheads
Strap in your sleigh, this emailer will be a wild ride. First, a big thanks to all who came out in force to our fine Northeast run of shows in NYC, RI & MA (see NYC video below). There's no better way to wrap up our 2017 than with a nice pair of shows in our home Commonwealth of Virginia. We haven't performed at a Richmond address in a decade, and we're delighted that our first ever show at RVA's Tin Pan (12/15) has already sold out over a month in advance. There are still tickets available for the next night at Charlottesville's Jefferson Theater (12/16). We're excited that our reliable Jake Armerding will be joining us for the first time at our Cville staple show.
Of course, there's not better way to start off the new year than in Virginia, as well… and we'll be back for our annual 3 date run at The Birchmere, January 12, 13 & 14 (MLK Weekend). Please click the dates in the right hand column for details.
Speaking of performing live at the Birchmere…
EDDIE FROM OHIO'S 1992 LIVE! AT THE BIRCHMERE CASSETTE RE-RELEASED!
Our first recording was a cassette - looong out of print, but it's NOW AVAILABLE FOR DIGITAL DOWNLOAD!
On April 14, 1992, EFO took part in the WAMA Crosstown Jam. Our multi-act showcase was at The Birchmere in Arlandria VA (its legendary 2nd location directly on Mt Vernon Ave, blocks from the current locale). The wonderful house sound engineer, Billy Wolf, honored our request to make a board tape of our set. We couldn't believe the results of his beautiful mix, and decided to make a cassette for sale at our shows - a tape we referred to as "The 6 Pack". We moved a whole bunch of units at 5 bucks each, and it marked the beginning of growing our audience around our original music, and not just our covers. It also marked the beginning of an incredible relationship with Billy, who essentially took us under his wing, mentored us, and worked with us in earnest in the studio (producing 8 albums!) as well as other live projects. BOOya, Billy!
This recording has been out of circulation for some time, but a recent discovery of a fairly clean copy inspired us to make it available again. Hear us in all our infant glory (two acoustic guitars & hand percussion -- as well as Robbie on some killer guirro on track 5).
Go back in time to the days of Robbie's fanny pack, Mike's mullet, Eddie's dashiki, & Julie's midi dress w/combat boots. No pictures, just audio. You'll simply have to "imagine us" while you listen.
https://store.cdbaby.com/cd/eddiefromohio10
& by all means, feel free to write a review at the CD Baby page...... but only if it's positive!
EFO 3 SONG SET CAPTURED ON VIDEO IN NYC
While we were at the ever-hospitable City Winery in New York City, we partook in one of their fine offerings: an intimate live video, professionally shot and edited called "Cellar Sessions, One on One".
See the results for yourself on our video page
https://eddiefromohio.com/video
WHAT'S UP WITH NO EFO MUSIC ON THE INTERNET??!!
A number of you have reached out to us noticing that our music was no longer available at such platforms as Spotify, YouTube, etc… You're very astute, but there's no cause for long term alarm. We have been in the process of re-aligning all of our digital distribution which involved pulling down all of our music, and reloading with the good folks at CD Baby. From there, most of the internet partners you've come to know and love will eventually carry our titles, as well. In the meantime - all of EFO's music is available for digital download at https://store.cdbaby.com/Search/ZWRkaWUgZnJvbSBvaGlv/0
Some hard copies for a few of the albums are available at BULLETPROOF, https://bulletproofartists.com/product-category/eddie-from-ohio/, but all digital downloads are available at CD Baby. iTunes, Amazon, and others will soon follow, hopefully within the month.
ROBBIE HAS SPECIAL FREE CD RELEASE EVENT IN DECEMBER
Monday, December 11, 7pm, Signature Theatre in Arlington VA - Join Robbie Schaefer for the celebration of the release of his latest album, Sounds Like Home: Songs From Light Years. A collection of songs from his forthcoming musical, Sounds Like Home features Jake Armerding (Eddie From Ohio) on fiddle and Daniel Clarke (kd Lang, Ryan Adams) on piano. This evening is free and open to the public and will include a short performance by Robbie, light food and drink, and autographed cd's.
LIGHT YEARS, Robbie's new musical is "a deeply personal tale of immigration, musical gifts and the steadfast bond between father and son". It will premiere at Arlington, Virginia's Signature Theatre in February, 2018. Individual tickets go on sale in June.
Full and partial season subscriptions are available now: http://www.sigtheatre.org/events/2017-18/light-years/
check out Robbie's OneVoice community by clicking http://www.onevoicecommunity.org/ OneVoice
Robbie's new and improved website is also up: http://robbieschaefer.com
His Facebook page
https://www.facebook.com/pages/Robbie-Schaefer/39512778003?ref=hl
CLEM IN DECEMBER
EFO's Michael Clem is spreading his holiday cheer throughout Central VA
Fr/8 Susie & The Pistols @ Glass House Winery, Free Union VA 6-9pm
Su/10 duo with Rusty Speidel @ Cunningham Creek Winery, Palmyra VA 1:30-4:30pm
Su/17 duo with Rusty Speidel @ Castle Hill Cider, Keswick VA 2-4pm
His 2018 will get off to the usual raucous start with his Trio of Five o'er his bday weekend
Save the Dates for:
The Michael Clem Trio of Five birthday shows
Fr, Jan 5 Batesville Mkt, Batesville VA 6-9pm
Sa, Jan 6 Jammin Java, Vienna VA (Justin Storer opens) 7:30pm
Also, check out the brand new Susie & The Pistols website, complete with a new video. https://susieandthepistols.com
CLEM'S WEBSITE
Lots of show details & information there, including the new CD "Fifty Clementines"
Available at CD Baby, iTunes & Amazon.com
Follow Michael Clem on Twitter @JFishMusic
LIKE THE MICHAEL CLEM & MICHAEL CLEM TRIO ON FACEBOOK
Click https://www.facebook.com/michaelclemtrio?ref=hl
Finally, all kinds of Clem Swag is available at
Red Bubble's Michael Clem Page http://www.redbubble.com/people/michaelclem/works/18630649-clem-swag?ref=recent-owner
CDs at https://bulletproofartists.com/product-category/michael-clem/
EFO SHIRTS ARE BACK!!!
All you Edheads who've been waiting to replace your EFO swag - well, now's your chance. Check out
http://www.redbubble.com/people/eddiefromohio Red Bubble's EFO Site. Our good friend and master artist Oslo, has put up some past logos, and now you can design your own shirts, hoodies,even a cell phone case! Pick your color, pick your style, pick your logo - it's so easy and PayPal-friendly!
EFO SHOWS OF YORE UPLOADED FOR YOUR LISTENING PLEASURE
Many shows have been uploaded to http://archive.org/details/EddieFromOhio.
Performances from all over the country at all different stages in our quarter century career.
OTHER NEWS
FOLLOW EDDIE FROM OHIO ON TWITTER- Follow us @virginiasoul
LIKE US ON FACEBOOK! Lots of news gets posted there, too.
Click https://www.facebook.com/pages/Eddie-From-Ohio/7419303387?ref=hl
For EFO and solo merch. Go to https://bulletproofartists.com/product-category/eddie-from-ohio/. Check out Bulletproof's new improved site!
MERRY EVERYTHING TO YA!
juliemikeeddie&robbie
email us at eddiefromohio@gmail.com