EDDIE FROM OHIO'S OCTOBER 2017 EMAILER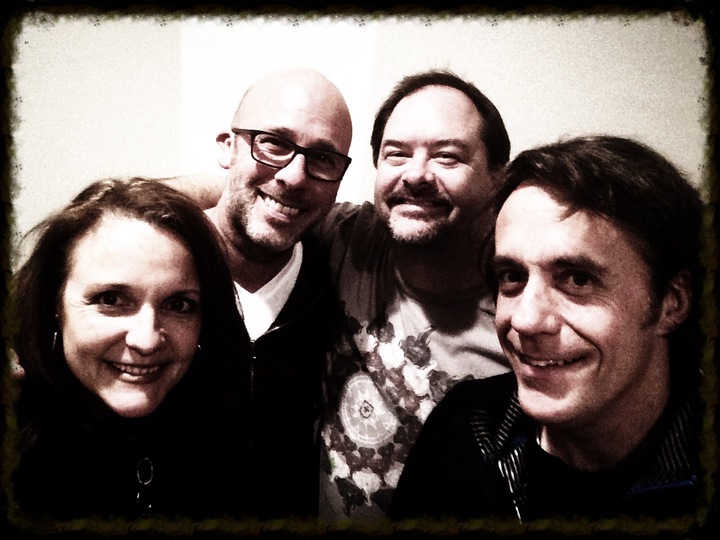 GREETINGS, EDHEADS
With September coming to a close, and our last member entering the 50s (
HBD, Eddie!
Honory 5th member, Jake has another 30 plus years to go
), we are gearing up for an exciting final run of 2017, by
ACTUALLY GIGGING
!!! Feast your eyes on the right hand column of dates, and you'll see we mean bidness. Though there are no EFO shows are in October, we're coming out early in November with a fine swing of the Northeast (NYC, RI & MA). By mid-December, we'll make a fine sweep of Central Virginia along I-64 with stops in Richmond and Charlottesville. Please join us... and often.
While Eddie recovers from a West Coast bday trip with his lady, Robbie comes back from European travels, and Julie warms up her golden voice, Mike will be minstreling around The Commonwealth of Virginia this month. Read on...
HUNT FOR CLEM OCTOBER
Whether it's solo, duo, trio, or full band,
Michael Clem
is pulling every club out of the bag in search of the perfect golf analogy... even though he doesn't golf.
Here's all the MICHAEL CLEM dates for the October starting with late September:
Sa/30 Solo set for the FLOW Rivanna River Festival, Darden Towe Park, 11am-noon
Sa/30 duo with Thomas Gunn @ Wintergreen Resort, Wintergreen VA 8:30pm
Su/Oct 1 Michael Clem Trio @ Stinson Vineyards, White Hall VA 2-5pm
Fr/6 duo with Peyton Tochterman @ The Light Well, Orange VA 8pm
Sa/7 playing bass with Crewe de Bayou @ Wintergreen Resort, Wintergreen VA 1-3pm
Sa/7 Solo set @ Waynesboro Harvest Dinner, Waynesboro VA - 6-9pm
Su/15 duo with Thomas Gunn @ Glass House Winery, Free Union VA 3:30-6pm
Sa/21 Michael Clem Trio @ The Front Porch, Charlottesville VA 7-9pm 1 Yr Anniversary
Tu/24 Solo opening set for Sara & Snuffy @ Jammin Java, Vienna VA 7:30pm
Su/29 playing bass with Crewe de Bayou
Details for all of these at
http://michaelclem.com/events/
Clem's WEBSITE
http://www.michaelclem.com/
Lots of show details & information there, including the new CD "Fifty Clementines"
Available at CDbaby, iTunes & Amazon.com
Follow Michael Clem on Twitter @JFishMusic
LIKE THE MICHAEL CLEM & MICHAEL CLEM TRIO ON FACEBOOK
Click
https://www.facebook.com/michaelclemtrio?ref=hl
Finally, all kinds of Clem Swag is available at
Red Bubble's Michael Clem Page
http://www.redbubble.com/people/michaelclem/works/18630649-clem-swag?ref=recent-owner
CDs at
https://bulletproofartists.com/product-category/michael-clem/
ROBBIE HAS SPECIAL FREE CD RELEASE EVENT IN DECEMBER
Monday, December 11, 7pm, Signature Theatre in Arlington VA - Join
Robbie Schaefer
for the celebration of the release of his latest album,
Sounds Like Home: Songs From Light Years.
A collection of songs from his forthcoming musical,
Sounds Like Home
features Jake Armerding (Eddie From Ohio) on fiddle and Daniel Clarke (kd Lang, Ryan Adams) on piano. This evening is free and open to the public and will include a short performance by Robbie, light food and drink, and autographed cd's.
LIGHT YEARS, Robbie's new musical is "a deeply personal tale of immigration, musical gifts and the steadfast bond between father and son". It will premiere at Arlington, Virginia's Signature Theatre in February, 2018. Individual tickets go on sale in June.
Full and partial season subscriptions are available now:
http://www.sigtheatre.org/events/2017-18/light-years/
check out Robbie's OneVoice community by clicking
http://www.onevoicecommunity.org/ OneVoice
Robbie's new and improved website is also up:
http://robbieschaefer.com
His Facebook page
https://www.facebook.com/pages/Robbie-Schaefer/39512778003?ref=hl
EFO SHIRTS ARE BACK!!!
All you Edheads who've been waiting to replace your EFO swag - well, now's your chance. Check out
http://www.redbubble.com/people/eddiefromohio. Our good friend and master artist Oslo, has put up some past logos, and now you can design your own shirts, hoodies,even a cell phone case! Pick your color, pick your style, pick your logo - it's so easy and Paypal-friendly!
EFO SHOWS OF YORE UPLOADED FOR YOUR LISTENING PLEASURE
Many shows have been uploaded to
http://archive.org/details/EddieFromOhio
.
Performances from all over the country at all different stages in our quarter century career.
OTHER NEWS
FOLLOW EDDIE FROM OHIO ON TWITTER- Follow us @virginiasoul
LIKE US ON FACEBOOK! Lots of news gets posted there, too.
Click
https://www.facebook.com/pages/Eddie-From-Ohio/7419303387?ref=hl
For EFO and solo merch. Go to
https://bulletproofartists.com/product-category/eddie-from-ohio/
. Check out Bulletproof's new improved site!
ALL THE BEST!
juliemikeeddie&robbie
email us at
eddiefromohio@gmail.com