EDDIE FROM OHIO AUGUST 2021 EMAILER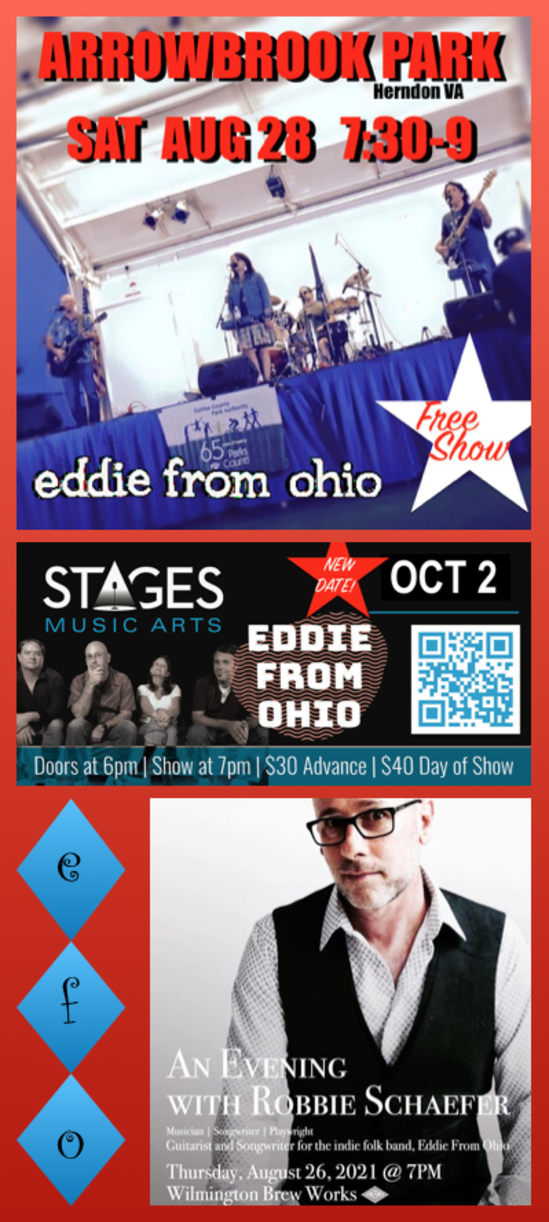 A THOUSAND PARDONS, EDHEADS...

...as the EFO August emailer is a week late, but better late than never. The extra time has afforded the EFO promo department to update and tighten up all the necessary info fit for your reading pleasure.

We apologize for the last minute cancelation of last month's July 17 show at Stages Music Arts in Hunt Valley MD, but we're pleased to announce that the date has been rescheduled for Oct 2. See the details on our CALENDAR page.

The big event for August falls right at the end on Saturday, August 28. We're heading back to Arrowbrook Park in Herndon VA a FREE OUTDOOR SHOW! Bring your chairs and blankets. For the past few years, our plans have been dashed by first torrential rain, then COVID, but this year, we are back ON! Please join us. You can click the details on our calendar listing or click here - www.fairfaxcounty.gov/parks/performances/eddie-from-ohio/082821

A few nights before, our own Robbie Schaefer will be up in Wilmington DE (8/26) for a FREE SHOW. Details are below.


************
You can see from our Calendar listing that we've got a bunch of shows through the remainder of 2021. From Northern VA in late August to the Midwest in September to Northeast in October, and RVA in December. We may even have some additional bookings to announce. Keep watching the website and our Facebook page.


Our 30th Anniversary Cruise scheduled for this August has been moved to August 2022. Please see the details below.


We celebrated our 30th Anniversary on February 3. If you missed them, here are the URLs for the anniversary videos that were made for the occasion.

You can view the EDDIE FROM OHIO - THROUGH THE YEARS, clicking HERE. (https://youtu.be/6daKZtbuVjY)

If you don't have 139 minutes to spare, you might be interested in the Overture Montage
You can view EDDIE FROM OHIO - THIRTY YEARS IN FIVE MINUTES, clicking HERE. (https://youtu.be/JBk-3jKKb7oz)

If you missed it last emailer, Scott also put together another wonderful video from our 25th Anniversary shows.
You can view the Eddie from Ohio 25th Anniversary Show, 2016, clicking HERE. (https://youtu.be/K8ulr9kQbwo)


Read on for other EFO related news...


***********************


EDHEAD 30TH ANNIVERSARY CRUISE MOVED TO 2022

Here is a NEW letter that went out to all the Edheads Cruisers from Fan Club Cruises


Hey Edheads,
It's time to celebrate our 30th(+1) anniversary in grand style. Most of you know that we had planned a 30th anniversary cruise for this August and had to move that to Aug 2022. And if you didn't know, you do now!
Alumni of prior Edhead cruises know how unique an experience this is; and for our 30th anniversary celebration, we're making it even more special by going to a true bucket list destination—Alaska! We'll sail roundtrip out of Vancouver and visit Sitka, Juneau and Ketchikan. We'll sail through the gorgeous Inside Passage twice and also visit the incredible Hubbard Glacier.
And there's a special surprise opportunity in Juneau that we'll announce a few months before the cruise. We promise it's something you won't want to miss!
Cabins are still available at $1459pp plus tax. And those rates include the classic beverage package, wifi and pre-paid gratuities. That's over $700pp in free extras!
We hope you can join us for this once-in-a-lifetime experience! If you have any questions, please don't hesitate to reach out to Donald at Fan Club Cruises. His email is donald@d2demand.com. And most of your questions can also be answered at the Edhead Cruise webpage -

The Edhead Cruise webpage - https://fanclubcruises.com/event/eddie-from-ohio-alaska-experience


***********************
ROBBIE SCHAEFER IN WILIMINGTON DE ON THURSDAY, AUGUST 26

As mentioned above, EFO's Robbie Schaefer will be doing a FREE show in Wilmington DE on Thursday Aug 26 at Wilmington Brew Works. Showtime is 7pm.
Robbie Schaefer's New Podcast
I have a new PODCAST. It's called Walk With Me and what happens is I take walks and you . . . well, you walk with me. Virtually. Figuratively. And I talk and play music since I'm good at both those things.
Here's a link to a FREE one. If you like it, there's plenty more where that came from on my
page. You can hear 'em all (and get other exclusive music and goodies) for just $10 a month.
WALK WITH ME (Ep.2): Flight Club


***********************

MICHAEL CLEM'S AUGUST & ANOTHER PLUG FOR HIS 2021 EP & HOUSE CONCERTS!

Having written a bunch of tunes over the pandemic slowdown, EFO's Michael Clem has teamed up with friend/producer Rusty Speidel to record five of them for the new EP Rivannarama, released January 12. The feedback thus far has been quite positive with many listeners describing the collection as shots of melancholy with a mirth chaser. Others have felt inspiration through MC's comical tragedies as though watching a birthday party clown fall down a spiral staircase while still landing on his very large feet. It's all the foot-stomping, head-scratching joyous confusion you've come to expect from a Clem release.

ORDER A LIMITED EDITION HARD COPY ON CD (U.S. Only)
Send $10 via
Venmo – @Michael-Clem-4
or PayPal – jfishmusic@hotmail.com
please include your mailing address in the message
OR
ORDER A DIGITAL DOWNLOAD
http://michaelclem.bandcamp.com

ALSO, Clem will offer his 10th round of Songwriting Classes at The Front Porch on Tuesday eves in the month of September (IN PERSON, not Zoom). For details visit https://frontporchcville.org/product/songwriting-for-singer-songwriters-w-michael-clem/

Here's Clem's AUGUST
Su/8 solo @ Montifalco Vineyard, Advance Mills VA 1-4pm
Th/12 trio with Paul Bell & Justin Storer @ Stinson Vineyards, Crozet VA 6-9pm
Fr/13 solo @ Grace Estate, Crozet VA 6-8:30pm
Sa/14 solo @ Eastwood Farm & Winery, Charlottesville VA 4-8pm
Sa/21 solo @ Bold Rock, Nellysford VA noon-2pm
Sa/21 duo w/Matty Metcalfe @ Knight's Gambit, Charlottesville VA 5-8pm
Fr/27 Susie & The Pistols @ Oak Grove Folk Music Fest, Staunton VA 8-10pm

Now available for House Concerts with the warmer weather & outdoor options
(Calendar has been filling up with trips to the Southeast, Michigan & California)
https://michaelclem.com/house-concerts/
The July house shows were a blast - see the reviews here
https://michaelclem.com/house-concert-reviews/

For all things MC visit http://michaelclem.com
MC's Facebook page https://www.facebook.com/michaelclemmusic


***********************



EDDIE FROM OHIO'S 1992 LIVE! AT THE BIRCHMERE CASSETTE RE-RELEASED!

Our first recording was a cassette - looong out of print, but it's NOW AVAILABLE FOR DIGITAL DOWNLOAD!

On April 14, 1992, EFO took part in the WAMA Crosstown Jam. Our multi-act showcase was at The Birchmere in Arlandria VA (its legendary 2nd location directly on Mt Vernon Ave, blocks from the current locale). The wonderful house sound engineer, Billy Wolf, honored our request to make a board tape of our set. We couldn't believe the results of his beautiful mix, and decided to make a cassette for sale at our shows - a tape we referred to as "The 6 Pack". We moved a whole bunch of units at 5 bucks each, and it marked the beginning of growing our audience around our original music, and not just our covers. It also marked the beginning of an incredible relationship with Billy, who essentially took us under his wing, mentored us, and worked with us in earnest in the studio (producing 8 albums!) as well as other live projects. BOOya, Billy!

This recording has been out of circulation for some time, but a recent discovery of a fairly clean copy inspired us to make it available again. Hear us in all our infant glory (two acoustic guitars & hand percussion -- as well as Robbie on some killer guirro on track 5).

Go back in time to the days of Robbie's fanny pack, Mike's mullet, Eddie's dashiki, & Julie's midi dress w/combat boots. No pictures, just audio. You'll simply have to "imagine us" while you listen.
https://www.amazon.com/Live-at-Birchmere-Eddie-Ohio/dp/B077XJQ3MR/ref=sr_1_8?dchild=1&keywords=eddie+from+ohio&qid=1599075912&sr=8-8




EDDIE FROM OHIO WOLF TRAP VIDEO

In case you missed it, our friends at Wolf Trap released a live performance of your folk foursome for their "Park Pop-Ups" series. The video is still up for your viewing pleasure:
https://www.wolftrap.org/calendar/performance/sessions/eddiefromohio.aspx#datetime=08012020T160000




EFO 3 SONG SET CAPTURED ON VIDEO IN NYC
While we were at the ever-hospitable City Winery in New York City, we partook in one of their fine offerings: an intimate live video, professionally shot and edited called "Cellar Sessions, One on One".
See the results for yourself on our video page
https://eddiefromohio.com/video





EFO MUSIC ON THE INTERNET

All of EFO's music is available for digital download at https://www.amazon.com/s?k=eddie+from+ohio&ref=nb_sb_noss_1

Hard copies (what are left) are now only available at our live performances, but all digital downloads are available at iTunes, Amazon, and others.





EFO SHIRTS ARE BACK!!

All you Edheads who've been waiting to replace your EFO swag - well, now's your chance. Check out https://www.redbubble.com/shop/?query=eddie%20from%20ohio&ref=search_box Red Bubble's EFO Site. Our good friend and master artist Oslo, has put up some past logos, and now you can design your own shirts, hoodies,even a cell phone case! Pick your color, pick your style, pick your logo - it's so easy and PayPal-friendly. See more from Oslo, at his website, http://oslographics.com






EFO SHOWS OF YORE UPLOADED FOR YOUR LISTENING PLEASURE
Many shows have been uploaded to http://archive.org/details/EddieFromOhio.
Performances from all over the country at all different stages in our quarter century career.




OTHER NEWS

TWITTER- Follow us @virginiasoul
LIKE US ON FACEBOOK - Lots of news gets posted there, too.
Click https://www.facebook.com/eddiefromohio





THANKS FOR ALL THE LOVE THE PAST 30 YEARS - HERE'S TO MORE !
juliemikeeddie&robbie
email us at eddiefromohio@gmail.com