EFO News
MOREHOUSE COLLEGE GLEE CLUB COVERS "WALK HUMBLY, SON"
Tuesday, April 6, 2010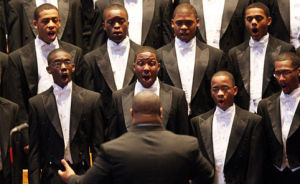 When we co-billed a show with them in Atlanta back in 2007, the legendary
Morehouse College Glee Club
heard us sing our "Walk Humbly, Son" and began performing it themselves. They've finally recorded their rendition and released it on their Volume XVIII collection entitled
Walk Humbly
. Their version is stunning, and it's not surprising after witnessing their world renown vocals. You can purchase a copy of this recent CD and read more about this 90-yr-old Men's Choir at their
website
.
While there is no video footage of the "Humbly" performance, click
here
to see a stirring rendition of "We Shall Overcome".
We know many Edheads have been drawn to the EFO sound for our vocals and harmonies. We got nuttin' on these guys!
Walk Humbly, Son
from
This Is Me
Walk humbly, son
Walk humbly now
And cherish every step
For a life well spent
On this earth we're lent
Will be marked by the void you have left
May you conquer not curse challenges
May you hold back the dark like a dam
May you lead your life with lion's roar
May you leave it like a lamb
Don't await rewards for your good deeds
A reward won't make them good
Don't await judgment of any foes
They'll receive just what they should
When you find the axis of this world
Don't tread too far inside
Run away as far as you think you can
Be well and enjoy the ride
Walk humbly, son
And store your pride
When you need strength later on
For your life's work will be judged if earth
Is saddened when you have gone
Walk humbly, son
Walk humbly now
And forget not where you are from
May you go further than those before
And provide for those to come
Will you walk humbly, Son
(Clem, J Fish Music/ASCAP)
2004