EFO News
eddiefromohio.com Gets An Overhaul!
Wednesday, October 22, 2008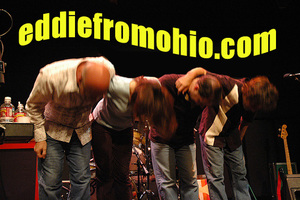 For the first time since 2004, we've overhauled our website, eddiefromohio.com. Following Robbie's lead, we secured the services of the good folks at
SlabMedia
. Now we have a more user-friendly site that will be much easier to manage and keep current.
Some features that we've never had on our websites before include:
*
Complete lyrics of all recorded EFO songs
*
Over 200 never-before-seen photos from the depths of the EFO footlocker
*
Comprehensive info on upcoming performances (map directions, ticket purchasing)
*
Videos
*
Current and regular postings of all EFO-related news
*
More cowbell
Finally, we're happy to inform the critics of our last website that there is NO FLASH on the new site.
Thanks for visiting. Bookmark us and visit often!
Be sure to visit our
Facebook Page
, and be among the 4,000 Edheads who have signed up.
ROBBIE'S NEW CD IS HERE!
Our own
Robbie Schaefer
has released his new solo CD,
Strange & Lovely World
. To find out more check out his new
website
.
VINTAGE EFO SHOWS AVAILABLE ON LINE
Discover old EFO performances at the Internet Archive. As many as 74 shows are currently posted
at this site from venues all over the country. Sound qualities may vary, but the whole
live experience is there -- inane banter and all. Visit
Internet Archive
.