EFO News
EFO RETURNS TO THE BIRCHMERE FOR OUR ANNUAL MLK WEEKEND RUN - JAN 14, 15 & 16, 2011
Tuesday, December 21, 2010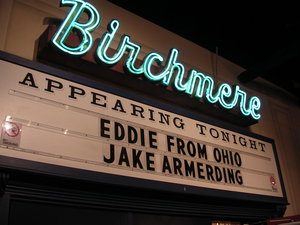 It's that time again for our annual three date run at
The Birchmere
in Alexandria, VA over the MLK Weekend (Fri Jan 14, Sat Jan 15 & Sun Jan 16 - Monday's a holiday). Returning to accompany us on stage will be fiddle/mandolin whiz,
Jake Armerding
. Also a remarkable solo performer, Jake's new duo,
The Fretful Porcupine
will open our Saturday show. Opening the Friday show will be the wonderful eastmountainsouth alum
Peter Bradley Adams
, and opening Sunday will be Boston area sensation
Adam Ezra
. Like the past several years, the good Big John & Paul will be on board to burn and sell CDs of our show. Don't know which night to come? Go to all three. Tips: Robbie wears his best shirt on Sunday, Eddie's solo is usually strongest on Saturday, Mike is funniest on Friday, and Julie looks sensational 24-7.
SATURDAY IS SOLD OUT.
2011: A YEAR OF GIVING BACK
This year marks Eddie from Ohio's twentieth anniversary. While we've thought long and hard about what we can do to make 2011 special, one thing with which we all agree is how fortunate and blessed we've been to make our passion our livelihood. Therefore, we have committed ourselves to making this A Year Of Giving Back. At each 2011 performance, we will be donating 10% of our show proceeds to a select local charity. These organizations will support causes that, in some instances, have affected band members directly, and in others, simply have missions that resonate for us. In addition, each show will feature a display at our merchandise table, through which you will be able to learn more about the charity and, if you choose, make an additional donation. It's the best way we can think of to say thank you to the communities that have supported us so generously over the past two decades.
A Year Of Giving Back begins this weekend with our upcoming run of Birchmere dates in Alexandria, VA. We encourage you to visit the merchandise table, and donate your time, energy, or resources to whatever resonates for you. Above all, thank you for joining us in this music and thank you, from the bottom of our hearts, for such a blessed 20 years.
The three inaugural charities are:
Friday night, the 14th
JDRF Capitol Chapter
Website: www.jdrfcapitol.org
Mission: The Juvenile Diabetes Research Foundation International (JDRF) is the worldwide leader in funding research to cure type 1 diabetes, an autoimmune disease that strikes children and adults suddenly and lasts a lifetime. JDRF is the leading funder and advocate of type 1 diabetes science. JDRF's mission has been constant since it was founded four decades ago: to find a cure for type 1 diabetes through the support of research. Until a cure is found, JDRF is also committed to working tirelessly to develop new and better treatments to improve the lives of people who have type 1 diabetes and keep them as healthy as possible.
Saturday night, the 15th:
Our Military Kids, McLean, VA
Website: www.ourmilitarykids.org
Mission: Our Military Kids provides tangible support to children of deployed National Guard and Reserve personnel as well as to children of severely injured service members through grants for enrichment activities and tutoring. Such activities help these children cope with the stress of having a parent in a war zone or recovering from injury at home. Our Military Kids grants are made to honor the sacrifices that military families make and to ensure that their children have access to sports, fine arts, or academic tutoring programs.
Sunday night, the 16th:
Downs Syndrome Association of Northern Virginia
Website: www.dsanv.org
Mission: The mission of this organization shall be to ensure that all individuals with Down syndrome and their families receive the support necessary to participate in, contribute to and achieve fulfillment of life in their community.